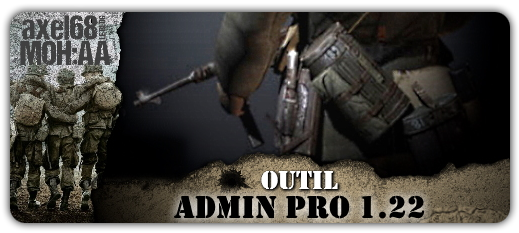 Admin Pro version 1.22, crée par Elgan & Jim et adapté par ubersoldier, est un outil pour votre serveur MOH qui vous permet de faire tourner plusieurs mods ensemble et de les gérer facilement.
Installation:
Placez le fichier Ådmin-Pro_1.22_+jims.pk3 ainsi que le dossier Settings dans votre dossier maintt/mainta/main. Ne changez pas le nom du fichier pk3 ! Le dossier Settings contient des fichiers txt, qui vous permettent de faire fonctionner le mod Admin Pro comme vous le souhaitez. Prenez le temps de savoir ce que chaque fichier txt fait. Le plus important pour commencer est le Mods.txt qui vous permet d'activer/désactiver chacun des Mods dans Admin Pro. Sauvegardez le fichier lorsque vous avez terminé et uploadez la mise à jour dans votre dossier Settings. Testez simplement le Mod tel qu'il est pour vous familiariser avec lui, puis commencez à faire les changements de votre choix dans le fichier Mods.txt ainsi que dans chaque fichier txt des différents mods, pour bien customiser votre serveur et les mods qui tournent dessus.
Admin Pro version 1.22, created by Elgan & Jim and adapted by ubersoldier, is a tool for your MOH server that allows you to run multiple mods together and manage them easily.
Installation:
Place the Ådmin-Pro_1.22_+jims.pk3 inside your maintt/mainta/main folder as well as the Settings folder. Do not change the name of the pk3 file! The Settings folder contains txt files, to make the Admin Pro Mod work the way you want it to. Take the time to get to know what each txt file does. The most important one to start is the Mods.txt which allows you to turn ON/OFF each of the Mods in Admin Pro. Save the file when you are done and upload the update one in your Settings folder. Just try the Mod as it is to get familiar with it and then make the changes of your choice. Enjoy it !
Les différents Mods / Included mods:
Mod Anti-Campeur / Anticamper Mod
Empêche un joueur de rester immobile et de camper sur sa position / Allows you to prevent players from hiding in one place for whole of map
Administration des armes / Weapon Limiter
Permet à l'admin de décider quelle arme peut/ne peut pas être utilisée sur le serveur / Lets the admin decide which weapons can/cannot be used on the server
Centre de Messages / Message Center
Permet d'envoyer des messages statiques/défilants sur le serveur / Allows the admin to put scrolling/static messages on screen
Mines
Permet d'utiliser des mines / Gives useable mines in game
Avions pilotables / Flyable Planes
Utilisation du Jet Pack / Use the Jetpack
2 nouveaux modes de jeu: Countdown et Survivor / 2 new Gametypes Countdown and Survivor
Protection lors du Respawn / Spawnprotect
Permet à l'admin de définir le temps durant lequel un joueur est protégé lorsqu'il revient en jeu / Allows admins to give players invunerability for a set amount of time when they respawn
Médecins / Medics
Permet aux joueurs de guérir leurs coéquipiers / Allows players to heal their team mates in game
Temps durant lequel vous avez survécu / Time Alive
Indique au joueur combien de temps il a survécu lorsqu'il se fait tuer / Prints on screen during the game how long the player stayed alive for
Equilibre équipes / Team Balance
Equilibre automatiquement le nombre de joueurs dans les équipes  / Automaticaly balances the teams when too many players join one team
Forcer les CVAR / Cvar forcer
L'admin choisit quels sont les CVAR autorisés / Admins can choose which of these are allowed on the server
Musique / Music
Permet de jouer de la musique / Allows tunes to be played in game
---
Ringdogs punishment
Pour les joueurs qui ne respectent pas les règles de votre serveur / For players causing annoyance on your server
Morph
Change l'apparence d'un joueur: transformez-le par exemple en cuvette de WC / Change players shape onscreen ,planes toilets etc.and takes away thier gun so they cant fight back
Freeze/Unfreeze
Empêche le joueur de bouger/jouer – Stop player from moving/playing – Allow player to play/move
Désarmer / Disarm
Désarme le joueur / Takes the players weapons
Crush
Un objet tombe sur le joueur et le tue / Drops a heavy object on the player…killing him
Midget
Rapetisse le joueur / Makes the player small
Giant
Transforme le joueur en géant / Makes the player big
Picface
Une image se met dans le champ de vision du joueur qui l'empêche de voir ce qui se passe / Puts a picture in the face so the player cant see where he is going
Rinspin
Le joueur se met à tourner sur lui-même sans fin / Spins the player around continuously
Wolfpack
Lachez des chiens sur le joueur ! / Set the dogs on the player/kills him
Flammes-Brûlure / Flame-Burn
Le joueur prend feu et meurt / Sets the player on fire/kills him
+ les 35 commandes supplémentaires de Jim / + Jim pusnishments adds a further 35 commands