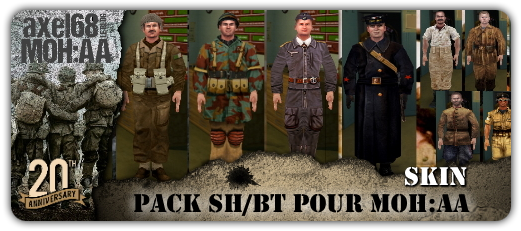 Voici un beau pack des 27 skins officiels des extensions MOH:SH et MOH:BT convertis pour qu'ils soient utilisables dans MOH:AA. Une excellente initiative et de très beaux skins qu'on a plaisir à retrouver sous MOH.
Placez zzzzzzzzzzzzzzzz_user_SHBT_skins_to_AA.pk3 dans le répertoire « main » de votre jeu favori.
Fichier crée par un généreux créateur anonyme (il ne veut pas être cité mais pour indice il s'agit d'un primate de la famille des cercopithécidés répandus en Afrique) pour la communauté MOH:AA en mars 2022.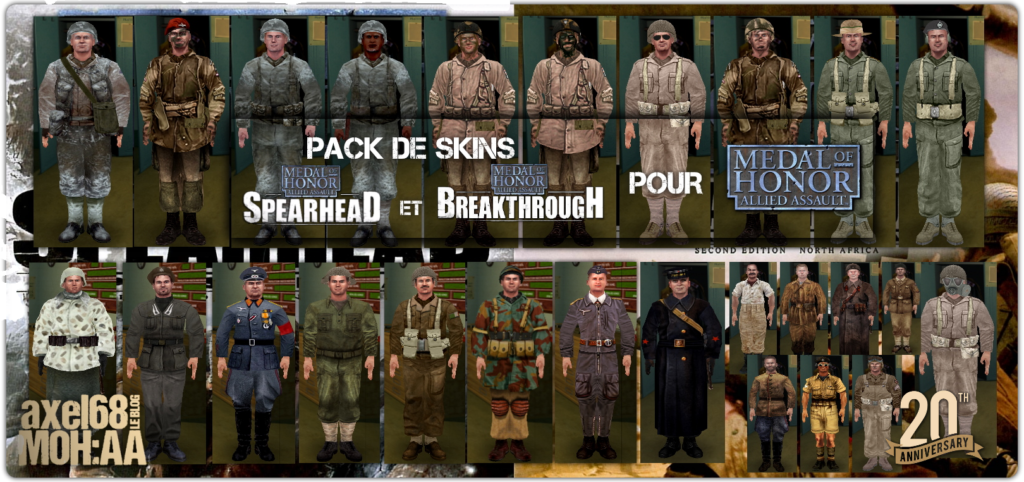 Here is a nice pack of the 27 official skins of the MOH:SH and MOH:BT extensions converted for use in MOH:AA. An excellent initiative and beautiful skins that we enjoy to find under MOH.
Place zzzzzzzzzzzzzz_user_SHBT_skins_to_AA.pk3 in the « main » directory of your favorite game.
File created by a generous (anonymous) creator for the MOH:AA community in March 2022.
---
Liste des skins (27)
allied_101st_captain -> US – 101st Airborne Captain
allied_101st_infantry -> US – 101st Airborne Private 1
allied_101st_scout -> US – 101st Airborne Private 2
allied_501st_pir_scout -> US – 501st Paratrooper 1
allied_501st_pir_soldier -> US – 501st Paratrooper 2
allied_technician -> US – Air Force Technician
allied_us_mask -> US – II Corps Infantry
allied_us_tank -> US – II corps Tank Commander
allied_weathers -> US – General Weathers
allied_british_6th_airborne_captain -> UK – 6th Airborne Captain
allied_british_6th_airborne_paratrooper -> UK – 6th Airborne Paratrooper
allied_british_cmd -> UK – 10th Corps
allied_british_tank -> UK – 8th Army
allied_british_tank_corporal -> UK – 6th Royal Tank Regiment
allied_russian_corporal -> RA – Corporal
allied_russian_crazy_boris -> RA – Crazy Boris
allied_russian_recon_scout -> RA – Junior Lieutenant
allied_russian_recon_soldier -> RA – Black Sea Petty Officer
allied_russian_seaman -> RA – Red Navy Seaman
---
german_panzer_corporal -> DE – 1st Panzer Regiment
german_stuckageschwader -> DE – Stukageschwader
german_ardennes_artillery_commander -> DE – Artillery Commander
german_dday_colonel -> DE – Normandy Colonel
german_italian_inf -> IT – 6th Army 202nd Coastal Div
german_italian_inf2 -> IT – 114th Inf Regiment
german_italian_para -> IT – Paracadutista Militare
german_italian_vol -> IT – 10th Army XXI Corps