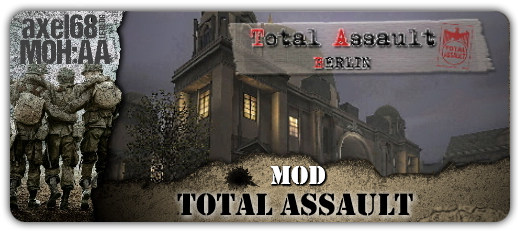 Voici le Mod Total Assault, une conversion totale pour Allied Assault. Here is the Total Assault Mod, a total conversion for Allied Assault.
Comme à chaque conversion totale le jeu est transformé avec de nouveaux menus, sons, skins et maps ! As with each total conversion the game is transformed with new menus, sounds, skins and maps!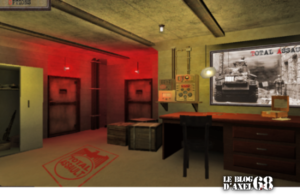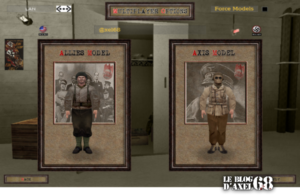 Vous trouverez 5 maps (4 en DM/TDM et 1 en version objectif). You will find 5 maps (4 in DM/TDM and 1 in objective version).
Berlin de Herr_Kruger
Ebensee de CTepnok
Rostov de Catalina
Tobruk de Runt
Warsaw de Herr_Kruger & Floydctif.
De nombreux skins de qualité sont disponibles (voir crédits ci-dessous). Many quality skins are available (see credits below).
Pour l'installation: placez le pk3 zzz_Total_Assault_v1.0.pk3 dans votre répertoire main et les deux fichiers MP3 dans le répertoire sound. For installation: place the pk3 zzz_Total_Assault_v1.0.pk3 in your main directory and the two MP3 files in the sound directory.
Je vous ai également ajouté le fichier pour jouer les 5 maps avec des BOTS. I also added the file to play the 5 maps with bots.
Enjoy !
---
CREDITS
PROGRAMMATION
Bdbodger
Herr_Kruger
LEVEL DESIGN
Herr_Kruger
Runt
Catalina
CTepnok
Floyd
ART – GRAPHIC DESIGN
Catalina
CTepnok
Salombo
Dj Fou
SKINS
Par Magna_Carta
Russian Army NCO
Russian Army Officer
Russian Army Pvt
Russian Army Sgt
Russian Commissar
Russian Conscript
Russian Conscript2
Russian Political Officer
Polish Coat
Polish Infantry
Polish Officer
Polish Officer2
Polish Pvt
Polish Sgt
German Totenkopf Infantry
German Totenkopf Officer
German Totenkopf Officer_a
German Wermacht field
German Wermacht NCO
German Wermacht Officer
German Wermacht Pte
German Wermacht Sgt
German Wermacht Slovak Infantry
Par Salombo
British 2nd sas regiment
British 7th armed regiment
British Cavalry
British Tank regiment
Italian black shirt legion
Italian decima
Italian paratrooper
Italian battalion centurione
Italian soldato sirte division
Afrika Korps Feldwebel panzer
Afrika Korps generalmajor
Afrika Korps Hauptman panzer
Afrika Korps Leutnant Luftwaffe
Afrika Korps Oberfeldwebel pioneers
Afrika Korps Obergefreiter
Afrika Korps Pnazertroop
Afrika Korps Unterofficier Panzer
German Totenkopf Officer
German Totenkopf Officer_a
MODELS
Ursusa truck by Bdbodger
Tankette by Bdbodger
Anti tank gun by Bdbodger
Fg42 by Jed
Luger pistol by East
GAMETYPES
Commander and bots by Bdbodger
in the following levels:
Berlin
Tobruk
AVATARS & HUD
catalina
INTERFACE
Catalina
Salombo
Ctpenok
MENU EDITOR
Bdbodger
MAIN THEME
Edith Piaf – Tu es partout